Hi folks,
I'm the proud owner of a new (to me) '99 CB500S. My name is Dave and please settle in for a tale fresh-faced exuberance and stupidity...
So I acquired the bike from my brother-in-law. In decent condition for the age.
"You can have it for nothing but it's been in my mate's garage for over 2 years. Good luck."
Great, I thought. What a legend. You may have gotten my sister pregnant but I guess you're alright!
So at this point I'm the owner of a rather unloved black CB500S, covered in cobwebs and dead leaves, no idea if it even starts, and all I've got is a CBT certificate and a theory test....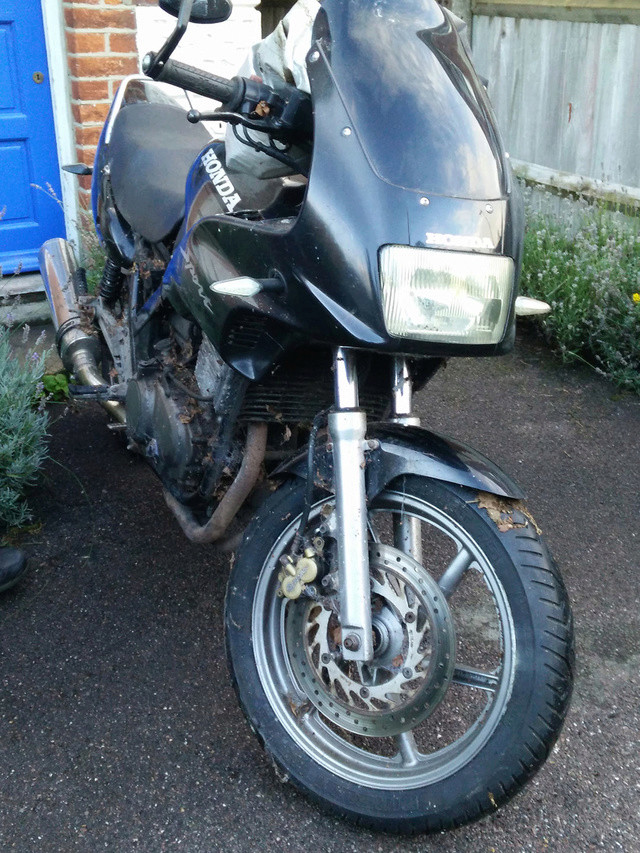 There she is! I believe the term is 'shabby chic'.
Anyway, after a wash down and connection to life support, we (me and my 70s British-triple loving dad) got the beast running! All well and good. So far.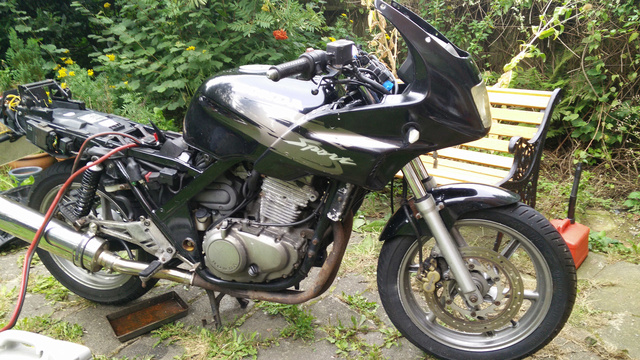 I'm afraid I stopped taking photos at this point... my hands were too oil-encrusted. Anyway, you get the idea.
So after a few weekends work (rubbing down some corroded aluminium, releasing stubborn carbs, replacing rear brake cylinder, gluing cracked fairings, cleaning brakes, replacing mirrors) it was MOT time!
Oh btw, I should mention that I passed my Mod 1 & 2 in the meantime. Go me!
So it had the MOT a couple of weeks ago and sailed through with a couple of minors and I've been happily riding ever since!
.....
But I'm afraid the story does not have a happy ending...
.....
Fast forward to this morning and I'm pootling along happily through town on my way to work. I change lanes on the run up to a red light, grab a bit too much front brake and drop my new pride and joy 

After sliding along for a few metres I get up, thankfully with only minor injuries, to discover a sheared-off indicator, broken front light and fairing, and a horribly disfigured rear brake lever. Dammit! 

Still, at least I walked away from it! And the bike can be repaired. I live and learn!
Anyway, enough rambling from me. Thanks for listening!
Cheers
Dave
P.S. I'll be posting in 'parts wanted' soon enough...