Through a mixture of boredom and curiosity I was recently reminded once again that it's only really in quite recent times that 500cc bikes have all but disappeared from consideration - by racers, buyers and manufacturers, etc.
But back in the early '80s one bike in particular seemed to pique the interest of middle-weight enthusiasts - especially those into more exotic stuff. This was Laverda's Montjuic. It's interesting to compare specs for that and the '90s CB500.
So far as I can tell, the Montjuic was regarded as a relatively hot-blooded bike - which, being an air-cooled half-litre twin, seems strange now. But I suppose this was at the beginning of an era when continuous development brought about swift and dramatic changes - so that by the late '80s, bikes like Yamaha's FZR1000 were making nearly three times the power for twice the cc and 30kg extra weight. But the Montjuic came at the end of the previous era of air-cooled engines, and a time when the half-litre class was still relatively popular.
To my eye, the Laverda looks like a fun bike - even if I probably couldn't get on with the clip-on style bars and lack of arse comfort (I prefer it without the handlebar faring - but the version with is the one that people probably remember):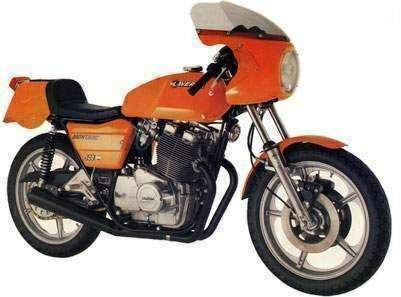 Specs-wise it turns out there isn't much in it between the Italian and Japanese bikes. They're both four valve twins with 180 degree cranks - and their respective weights seem to be within a kilo or two of each other. Both bikes make 58bhp (as ever, precise data is a bit hard to locate).
The Honda is slightly more over-square (73x59mm against 72x61mm), which I'm guessing accounts for the difference in torque figures - the CB's max being 47nm @ 8k and the Laverda's 47nm @ 5.5k. Fuel consumption is also comparable - figures for the CB edging it slightly ahead, according to one source (51 miles per gallon against 48). I can't find details for the Montjuic's wheelbase length or its rake and trail geometry - which is sad because I'd liked to have compared them too. However I will quickly note that I think the weight figures I quoted above are possibly on the high side for the Italian bike - reading reviews from the time, more than one journo seemed happy to talk about the Laverda as feeling more like a 250cc bike. Not something you could realistically say about the CB500 - let's be honest. I suspect the Montjuic probably was a bit more svelte than stated.
It's funny - and another reminder of how quick development was occurring - because in the space of some fourteen years a 50+bhp 500 twin apparently changed from quite an exciting prospect to a mundane utility bike. But, from another angle, it's like Honda's designers cast about for something to achieve, regardless of where history was heading. Almost as though someone said what's the best four stroke 500 twin ever made? Suggestions may well have included the Montjuic, and so Honda studied its virtues and equalled or bested them! So let's celebrate. We're basically riding an Italian classic with a bit more on top! Indulge me guys, I know it's a bit of a stretch - it's just that the numbers seemed so on our side. ; - )
Oh yeah - one other thing. This damn Montjuic thing was apparently a right raucous old dog - and eventually seems to have been banned as noise restrictions tightened. Which again doesn't seem entirely out of character with the CB500, at least for those bikes with the fabled (and de-baffled) Fuel end-can.
Okay - really, the last word now. Whilst reading about this particular Italian bike, I did have to smile at the comments of one journalist who claimed that "The Laverda was far from ideal for any form of commuting or touring, but for pure enjoyment, fast road work or even a touch of club racing, or 'track days', in 1980 no half-litre machine could compare with the Montjuic. Its nearest rival was probably the 350 LC Yamaha water-cooled two-stroke twin, which was very slightly larger and heavier than the Montjuic."
Lighter and smaller than a 350LC?? Lol - yeah, having trouble believing that. What with it being summer, I've been seeing a fair few of those about - there was a clamour of them all gathered in the same square of Squires car-park the other Thursday (not sure what the collective noun for RD350s is btw). And to my eye they looked small, even compared to a CB500. The idea that an RD350 is heavier than the Laverda is even more difficult to swallow, imo.