Hi Gents,
My swing arm look pretty rusty so I was going to remove it and paint it. I then figured so long as I was removing it, I might as well swap out the bearings as the swing arm hasn't had any servicing done in my ownership (and maybe ever.) Can anyone tell me from the part in the diagram which of these bearing are the ones you could reasonably expect to replace.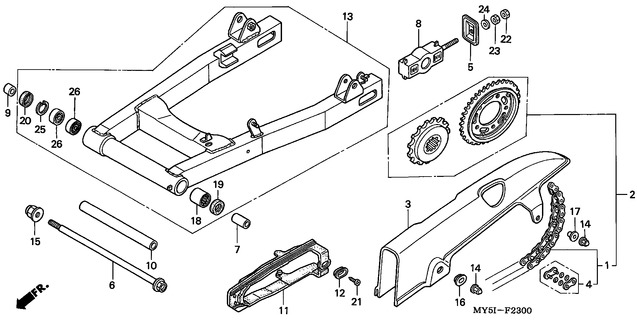 The prices are pretty hefty;
https://www.lingshondaparts.com/honda_motorcycle_parts_selection_pfk.php?block_01=13MY52I1&block_02=F__2300&block_03=1589&block_04=xx&block_05=hmc
On a related note, has anyone had problems removing the swing arm pivot bolt? I imagine it should be straight forward but if anyone has first hand experience of how stubborn they are that would be much appreciated.