Anyone looking to use their car Sat Nav in the bike might be interested. The important thing to remember is that the car nav only needs 5v, not 12v
Having been given a 'TOMTOM XXL IQ ROUTES' by a friend, I thought it might be possible to mount it on the bike.  Yes, I know it's not waterproof, but I don't ride in the rain much, and it saves me spending over £600 (!!!)  on the BMW system.  I also think it's quite well protected from the rain by the screen anyway. 
Having investigated the vast number of mounting options available, I opted for the BMW mount, which uses pre-existing screws above the speedo, to mount the bar.
I then found a cradle to hold the TOMTOM, made by a company called RAM.  It provides a very secure mounting for the TOMTOM to 'click' into.
A good friend of mine, then made up the aluminium plate to secure the cradle to the BMW mount at the correct height.  He tapped the necessary holes, countersunk and shortened the screws, and delivered it back, painted and ready to fit – how great to have 'friends that can'!
[url=http://s921.photobucket.com/user/sullivj/media/Mobile Uploads/2016-11/DF45B773-B6BC-42B5-B31D-EFCDE8AAE0CB_zpsqowlhdxn.jpg.html]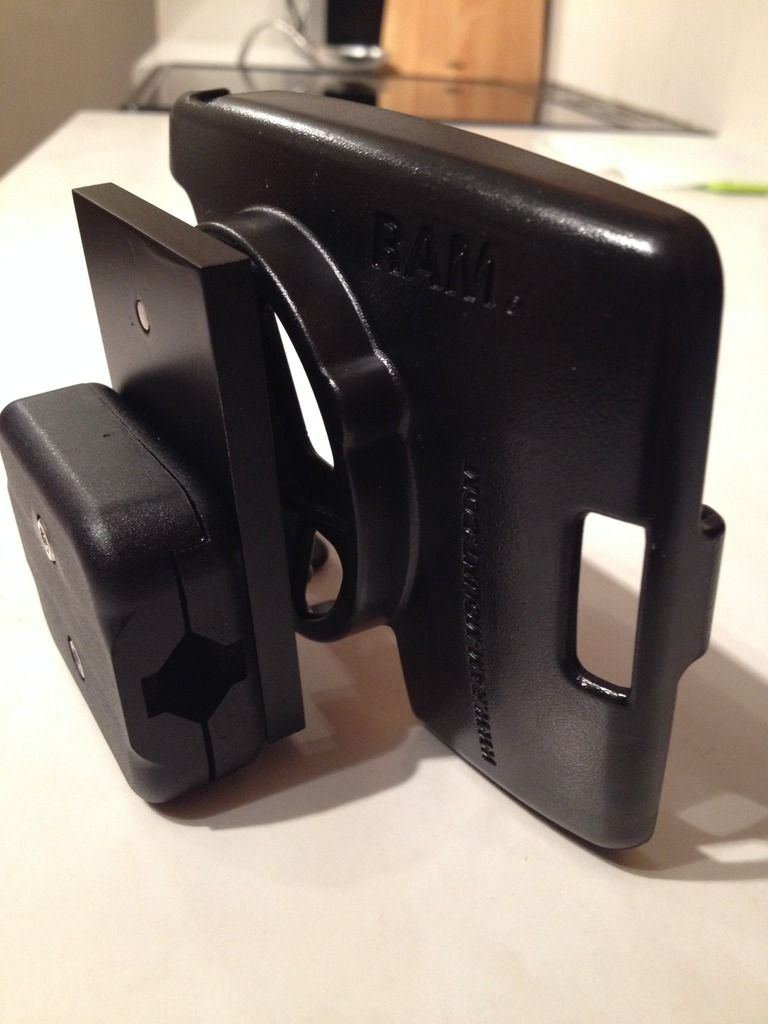 [/url]
The mini USB exit point on the TOMTOM is from the bottom.  Wanting to keep the cabling as neat as possible, I found a 90 degree USB joint, to allow the cable to exit from the rear of the unit instead.
As it's designed for the car, it runs on just 5 volts.  Having taken advice from the forum, I eventually opted for one of these (12v to 5v) conversion leads, with a mini USB on one end, and bare wires on the other.  I have soldered these bare wires to the BMW plug, heat shrunk the connection, and plugged it in to the socket available under the dash.  This makes sure that the TOMTOM is only powered when the ignition is switched on.
I think the end result is great.  No, it's not stamped by BMW, but I like it and it works well (for a fraction of the cost!).
Last edited by Jameshambleton on Wed 16 Nov 2016, 7:35 pm; edited 1 time in total (Reason for editing : Thread format cleaned up as requested.)