With the engine still warm, put bike on the side stand and remove the oil filler cap. Cover the floor with newspaper and position an at least 4-litre shallow bucket or tray below the sump plug.
Wearing gloves, loosen and remove the sump plug. Hot oil will gush out so be careful. If you push the bolt upwards while unscrewing it, oil is less likely to go down your arm. Leave the oil to drain completely.
Reposition your oil drain tray below the oil filter and unscrew it. Usually it's possible to unscrew the oil filter by hand (try it with rubber gloves), but if not, and assuming you haven't got a special tool, you can either ram a screwdriver through it or crush it in a G-clamp to turn.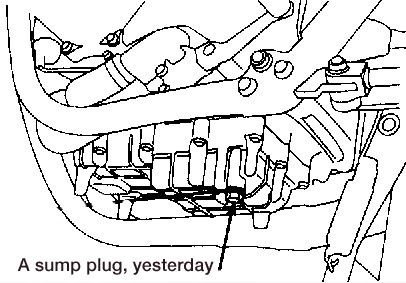 Clean the area around the filter thread. Moisten the new filter seal with a little oil, and screw on tightly BY HAND (officially 10 Nm / 7 lb-ft).
Clean the sump plug, replace it and tighten. You also need a new sump plug washer. You can get an oil filter cup to remove the filter for about 50p with a new filter as well.If you have a torque wrench, torque up to 35 Nm / 25 lb-ft. If not take it easy, you don't want to strip the threads.
Put the bike on the centre stand. Refill with good quality semi-synthetic motorcycle oil, checking the level as you go.
Replace the filler cap, run the engine for a minute or two, leave to stand for five minutes, then check the level and top up as necessary. Check for leaks around the sump plug and oil filter.